Learn English while learning about daily life in Australia, with Rob McCormack
Podcast Number 10 – A Hobby in Melbourne – Motorcycling
Hi,
Melbourne is one of those cities where you can do a large number of hobbies or pastimes.  One popular pastime in Melbourne is motorcycling.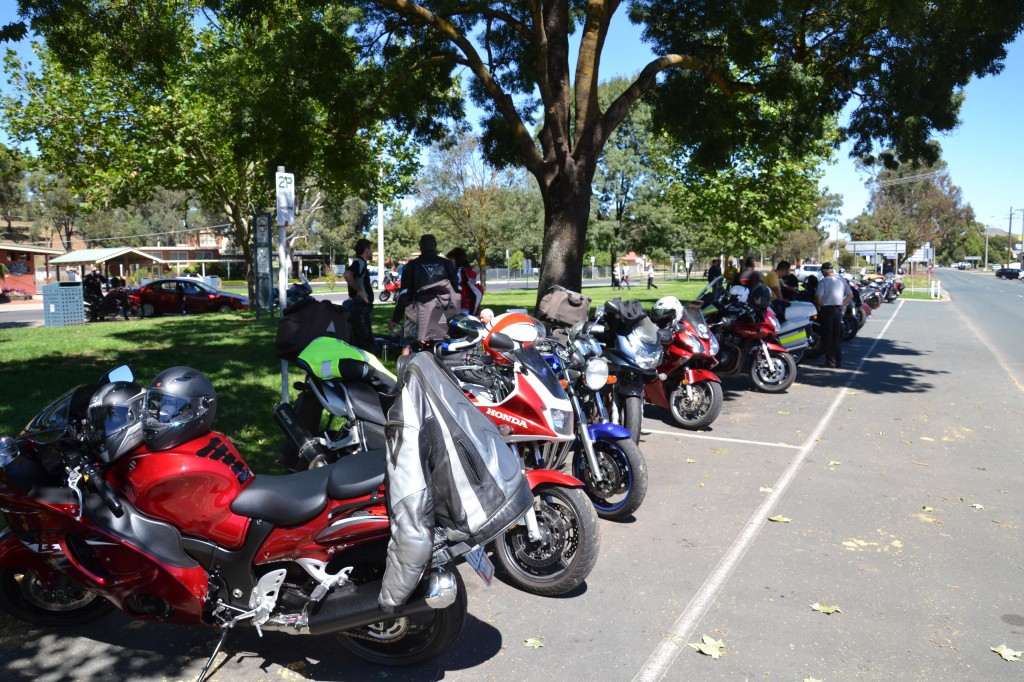 It is also growing in popularity.   In the countryside around Melbourne there are many fantastic places to go motorcycling.  The major highways out of Melbourne are wide and generally mostly straight.  But if you turn off the major highways onto the minor roads, you will find the roads are still bitumised, adequately maintained and there are plenty of curves and wonderful scenery to enjoy on a motorcycle.
In particular, the area to the north east of Melbourne, within say 300 kilometres, is a great place to go motorcycling on a day ride.  The hills close to Melbourne are called 'The Dandenong Ranges', or as most Melbourne people say, 'The Dandenongs'.   Another name for this region is the Yarra Valley, as the river Yarra runs through it.  This region has a lot of agriculture and also is strong on tourism.  For example, there are about 80 wine growers in this region.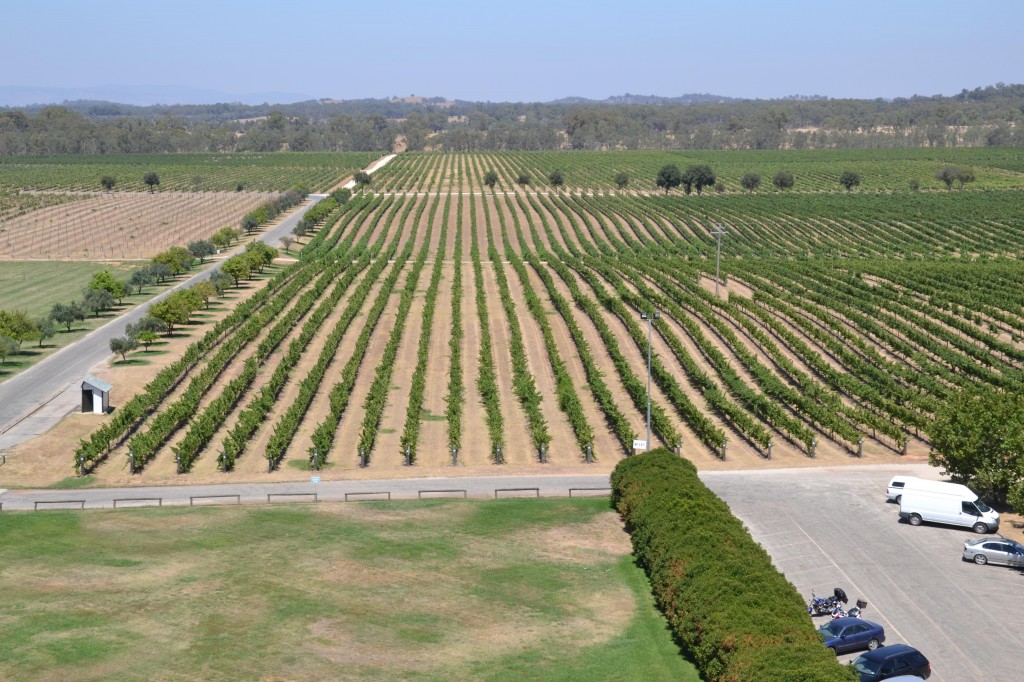 These are world class vineyards and wine making places.  These are always fun to visit, but if you are riding a motorcycle, any drinking of wine must be left for another time.  When on a motorcycle, you need all your senses to be sharp.
There are many small towns in this region. One of my recent motorcycle rides was to a small town called Marysville.  I think this is my favourite small town in Victoria. Let me tell you about this ride.
I often ride with my friend Ray.  Ray has been riding motorcycles since he was a young man and he is now retired.  So he knows nearly all the great places to ride around Melbourne.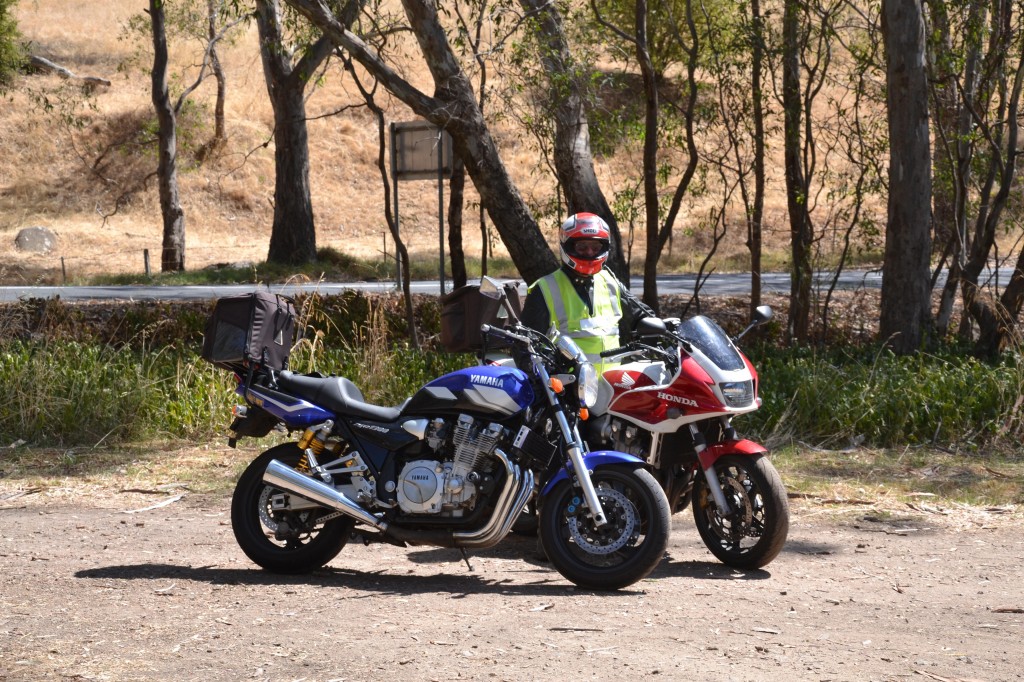 For our ride to Marysville, we decided to meet up at Lilydale, a small town on the outskirts of Melbourne. When I arrived, we had a drink and talked about where we would go. Then we looked at and talked about our motorcycles, as we often do. Ray rides a 2006 red and white Honda CB1300.  I ride a 2001 blue, white and black Yamaha XJR1300.  We love our motorcycles.
Then we set off.  We rode off down the highway but were soon riding on minor roads with lots of curves towards a town called Warburton on the Yarra River.  After about an hour's riding, we stopped for a break.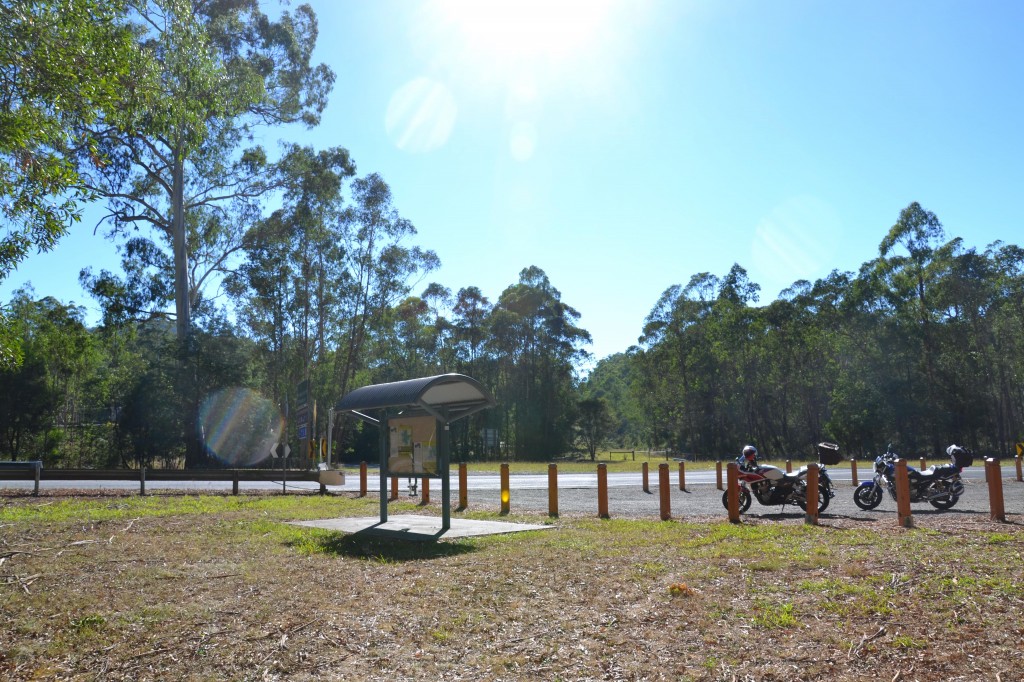 We always carry a Thermos of hot water so we can make a cup of tea.  At our stop, we were next to thick forest. All we could hear were the birds and the sounds of the forest.  Life is good, we said to one another.
We set off again towards Marysville and rode through dense forests of tall trees on roads that wound around, through, up and down the hills.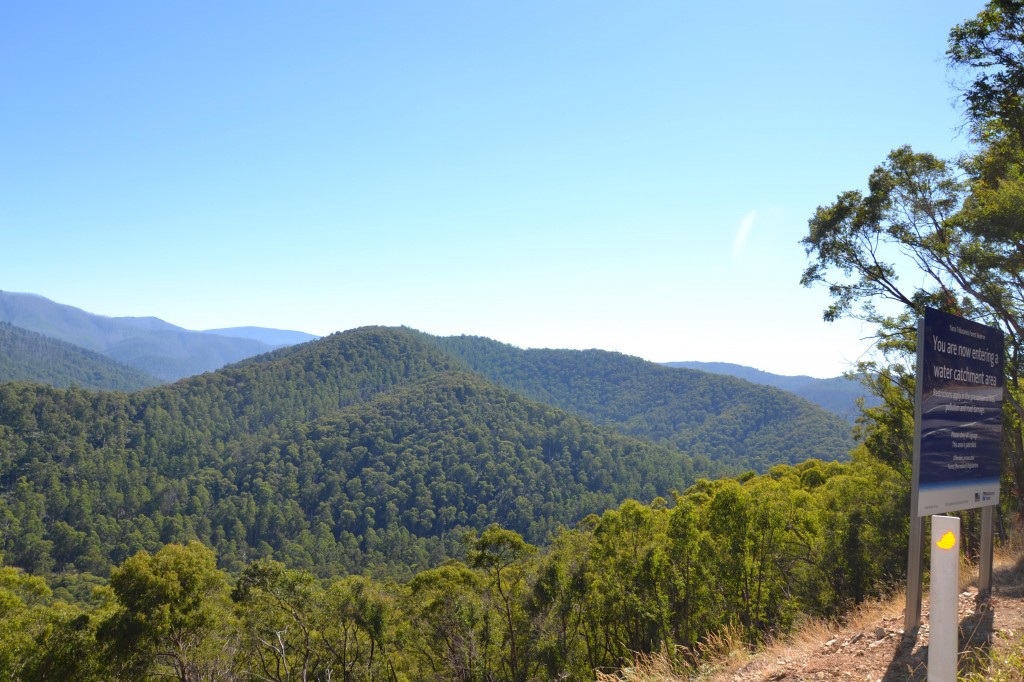 The ride was magnificent.  It was a very hot day, but in the hills and riding past the magnificent trees and undergrowth, the air was cool and fresh.
Finally we arrived at Marysville and parked our motorcycles under the shade of large trees in the main street.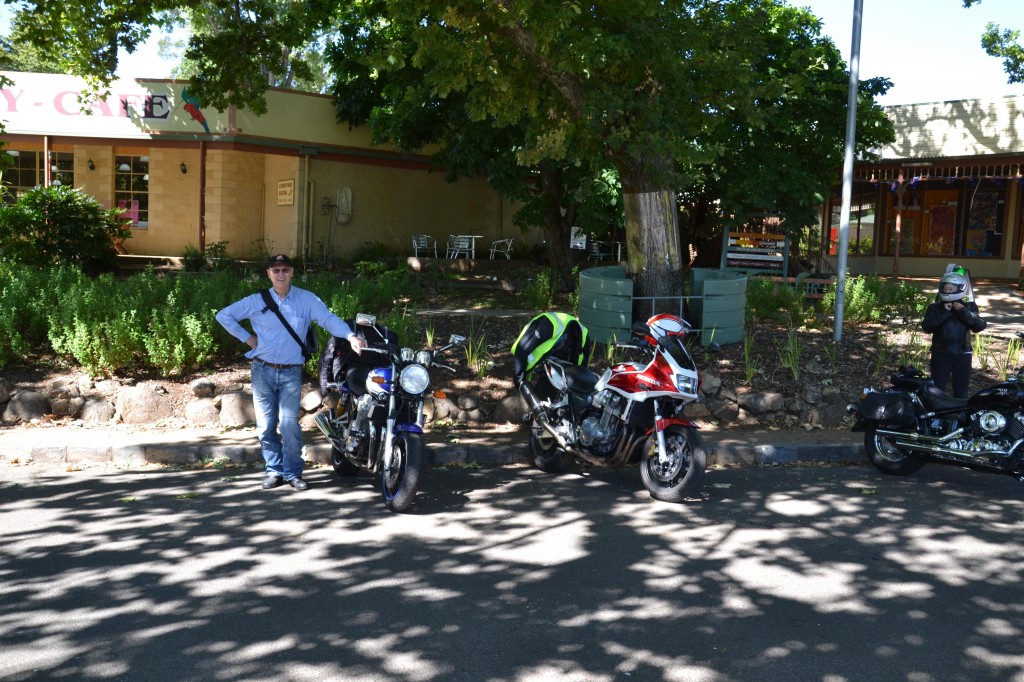 Only 4 years ago, Marysville was almost completely destroyed in a terrible bushfire.  It has now been almost fully rebuilt and is a beautiful village once again.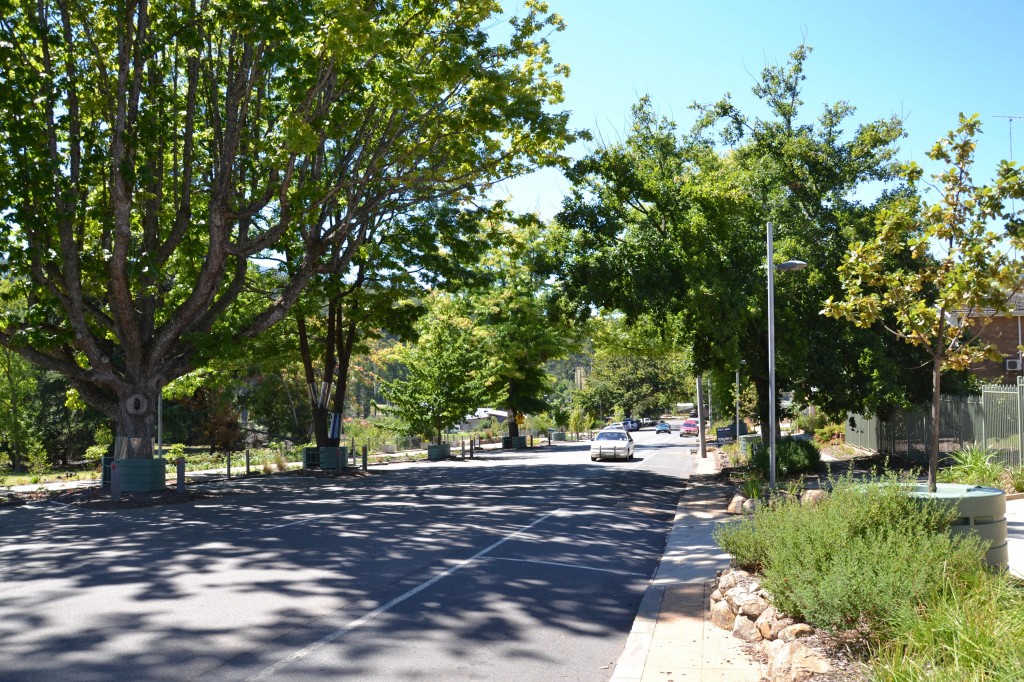 In another podcast, I will tell you about the bushfire danger in Australia.  It is a very real danger and one which we take very seriously.
After eating a fine lunch and having a long chat, we got back on our motorcycles and came back to Melbourne. There is no better way to spend a day, than riding a motorcycle.
If you have a question or a comment to make, please leave it by clicking the comments link at the top of this story. You can leave your comment in English or in any language and I will translate it. Or, you can send me an email at rob@slowenglish.info. I would like to hear any suggestions you may have. I would especially like your suggestions for podcast topics. Goodbye until next time.
Rob
Podcast 10 Quiz - Did you understand the podcast?
You can take the quiz as many times as you like.
Vocabulary
adequately = when something is done well enough
agriculture = when people grow plants or animals on the land
arrived = when something has come to a place
bitumised = when a road is covered with a hard, dark blue surface.  Then it will last a long time
break = when you stop doing something for a short time, so you can have a rest
bushfire = when the bush catches on fire and burns everything. Sometimes houses are burned too.
completely = totally
curves = when something bends, like a road when it goes around a corner
danger = when people can get hurt or die
dense = when there are many things together in a small space
destroyed = when something is no good anymore. For example, when soemthing is burned in a fire
forest = an area of trees
growers = people who grow plants on the land
hobbies = things you do for fun, in your free time
magnificent = when something is very, very good to look at, or very, very good to do
maintained = when something is looked after and works well.
minor = not so important
outskirts = on the edge
parked = when you stop your car or motorcycle and turn off the motor
pastimes = the same as hobbies
popularity =high popularity means that many people like it
rebuilt = when a house is built again, after it has been destroyed
region = an area or part of a country
scenery = what you can see in the countryside. For example, hills, valleys and fields
seriously = when we take notice, when we do not ignore it
sharp = when things are very clear
straight = when something has no bends in it
terrible = when something is very, very bad and causes great fear in people
Thermos = this is the name of a container which keeps hot water hot for a long time
thick = when things are very close together
undergrowth = the plants which are growing low on the ground, under the trees
vineyards = where grapevines are grown. Wine is made from the grapes
wonderful = when something is really good
world class = as good as the best in the world
wound around = when something goes around in a curve