Learn English while learning about daily life in Australia, with Rob McCormack
Podcast Number 9 – Melbourne's Queen Victoria Market
Hi,
I enjoy food markets.  I love to see fresh food laid out for sale, with its bright colours and the wonderful smell of fresh fruit and vegetables.  That is one of the pleasures of life.  Melbourne has a famous market which has over 10 million visitors each year.  It sells fresh fruit and vegetables, meat and fish, cheeses and other specialty foods and lots of non-food items such as clothing, souvenirs and jewellery.  It's called Queen Victoria Market.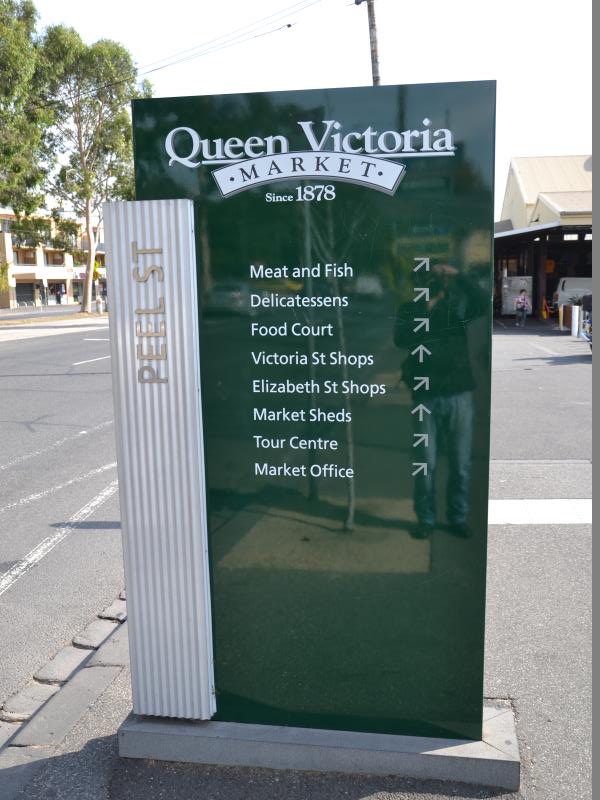 Queen Victoria Market is 130 years old.  It is found in the main central business district of Melbourne and is easy to get to by tram.  It is open 5 days a week and is closed on Mondays and Wednesdays.  It is the place to go if you want your food really fresh.  On Tuesday, Thursday, Friday and Saturday, it opens at 6.00am.  Now that's early.  It closes at 2.00pm on Tuesday and Thursday, 5.00pm on Friday, 3.00pm on Saturday and 4.00pm on Sunday.  Sunday is more about specialty goods rather than fresh food and tends to be more for families, with children's rides and other entertainment activities. On my visit today, it was Thursday. I took my motorcycle and there was plenty of parking.
Queen Victoria Market (or 'Vic Market' as Melbourne people call it) has a number of different areas which specialize in different types of products.  Two of my favourites are the Deli Hall and the Meat Hall.  These areas of the market are inside and are fully air conditioned, which is great if it's one of those hot Melbourne summer days.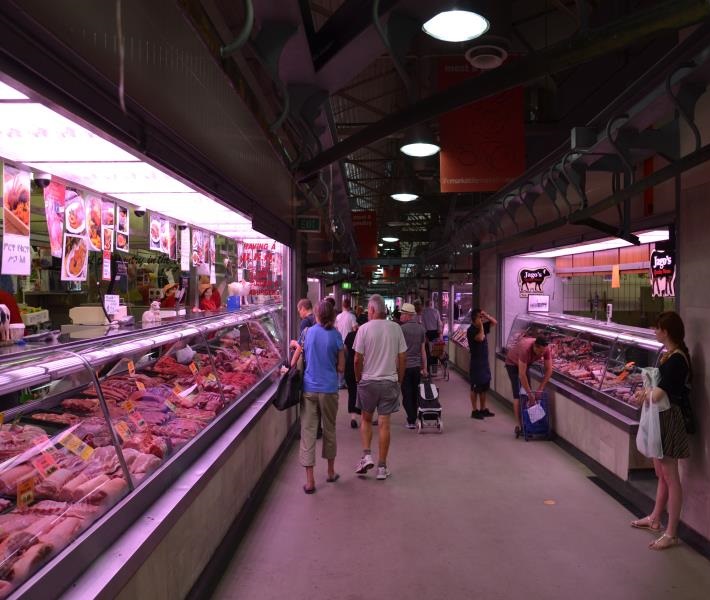 The Deli Hall is short for Delicatessen Hall and includes wonderful dairy products such as cheeses from all over Australia and the rest of the world.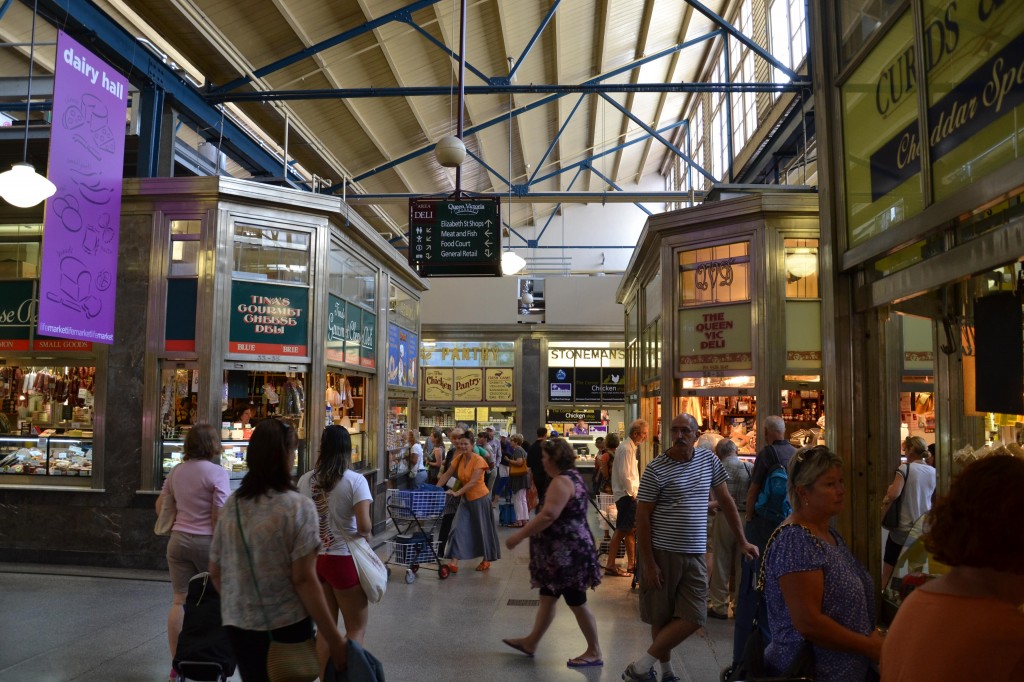 The Deli Hall also offers cured meats like ham, bacon and sausage.  There are also shops which have a wide range of breads.  The high grain sourdough bread is my favourite. Today on my visit I  bought some Strudel with poppy seed.  That is a real favourite of my wife and mine too.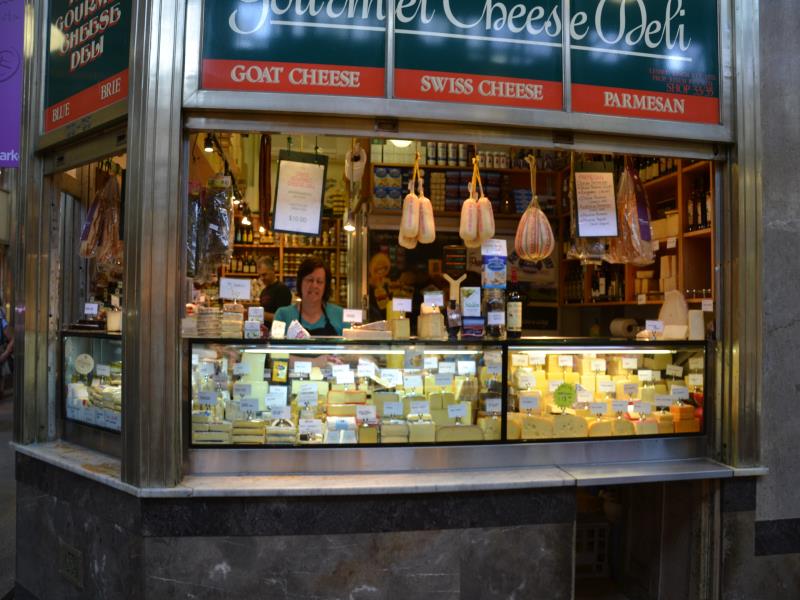 The Meat Hall has a fantastic range of fresh meat, seafood and poultry.  There are 20 butchers, 10 fishmongers and 3 fresh poultry shops.  And the food is all well priced and top quality.  On my visit today I bought some juicy pork and some beautiful beef steaks.
As well as these two areas, of course there is the fresh fruit and vegetable area.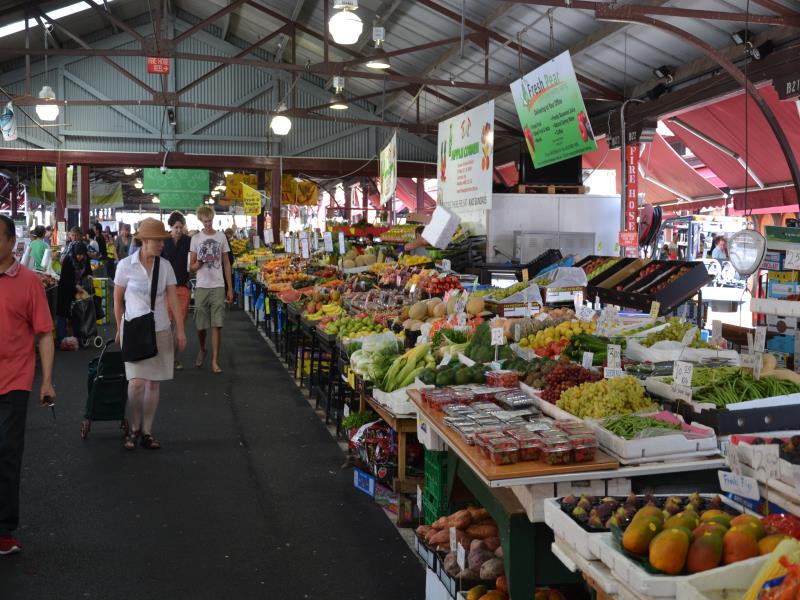 Here you can always get a real bargain and it's all fresh.  Today the peaches and nectarines looked especially nice.   I also love the mangoes.  They are so juicy and sweet.
Other areas in the market include the organic produce area.  Fruit and vegetables in this area are grown without any insecticides or chemical fertilizers and are called organic.  The General Merchandise section includes things such as clothing, shoes and jewellery.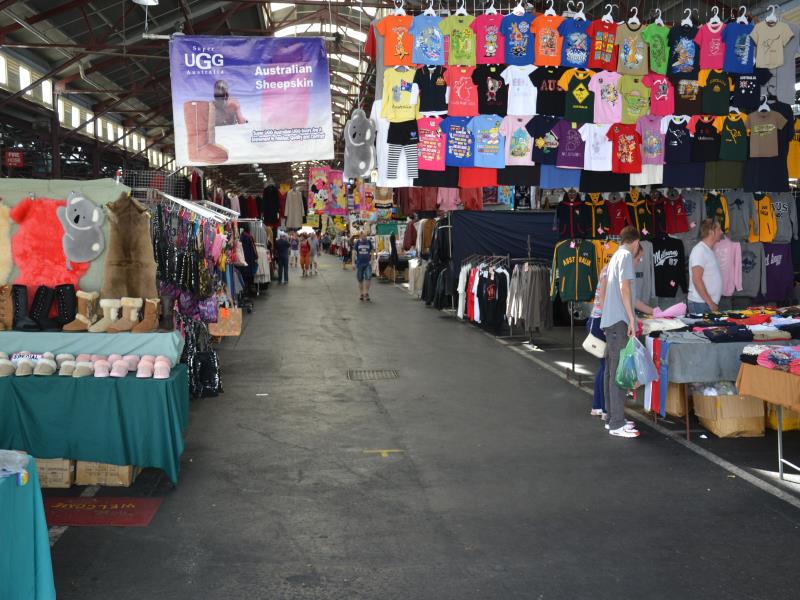 And Vic Market also has great places to sit down for a nice meal such as a pizza or a well cooked steak with chips and salad.  And to finish your meal, you must have a real Melbourne coffee.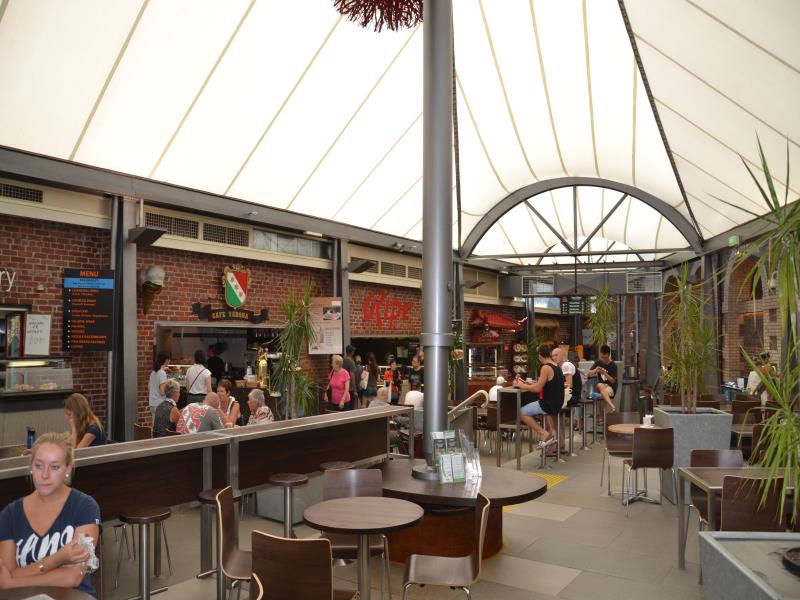 Of course Melbourne has many, many shops and shopping centres, but for a real adventure when buying your fresh food for the week, the Queen Victoria Market is the place to go in Melbourne.
If you have a question or a comment to make, please leave it by clicking the comments link at the top of this story. You can leave your comment in English or in any language and I will translate it. Or, you can send me an email at rob@slowenglish.info. I would like to hear any suggestions you may have. I would especially like your suggestions for podcast topics. Goodbye until next time.
Rob
Podcast 9 Quiz - Did you understand the podcast?
You can take the quiz as many times as you like.
Vocabulary
adventure = when an activity is new and exciting
air conditioned = a machine to make the air cool (in summer) or warm (in winter)
bacon = meat from a pig
bargain = when something is cheaper than you thought it would be
beef steaks = meat from a cow
butchers = people who prepare meat for sale
central business district = the centre of the city, where all the businesses are
chemical fertilizers = used in the ground to make plants grow quicker and bigger
chips = a food made from potatoes and cooked in oil
closed = when the shop is not open
clothing = things we wear to keep warm and to stop our skin from being sunburned
cured = when meat has been treated so that it won't go bad for a long time
dairy = food that is made from cow's milk. For example, cheese, yoghurt
entertainment = events that people want to see because it pleases them
fantastic = when something is really great and people like it a lot
fishmongers = people who sell fish
fully = completely
grain sourdough = a type of bread
ham = meat from a pig
insecticides = chemicals used to kill insects, like flies
jewellery = beautiful art that we wear on our body
juicy pork = very good meat from a pig
mangoes = a type of fruit
markets = a place where you can buy things, usually food, fruit and vegetables
nectarines = a type of fruit
non-food items = things you buy which are not food
offers = when a shop has something for sale
organic = when something is grown without using any chemicals or insecticides
peaches = a type of fruit
pizza = a type of food made with pastry and toppings
pleasures = something that pleases you
plenty = when there is more than enough of something
poultry = meat from chickens and other birds
products = things that shops sell
seafood = food that comes from the sea
shoes = we wear these on our feet to keep them warm and dry
smell = we smell things with our nose
souvenirs = things we buy at a place so that we remember that place
specialize = when a shop sells just one type of thing
specialty = something that is hard to find. You can only buy this in a few places
strudel = a type of dessert sweet made with pastry and apple
sweet = when something tastes like sugar
tends = usually
top quality = when something is very, very good
wide range = when a shop offers many products for sale
without = when something is not there