Learn English while learning about daily life in Australia, with Rob McCormack
Podcast Number 5 – A Morning Walk in Melbourne – The Yarra Trail.
Hi.
I go for a long walk every morning. I find it is a great way to start my day. We live on the north eastern edge of Melbourne, near the Yarra River which winds its way through the city to Port Phillip Bay. Next to the Yarra River is a trail called the Yarra Trail.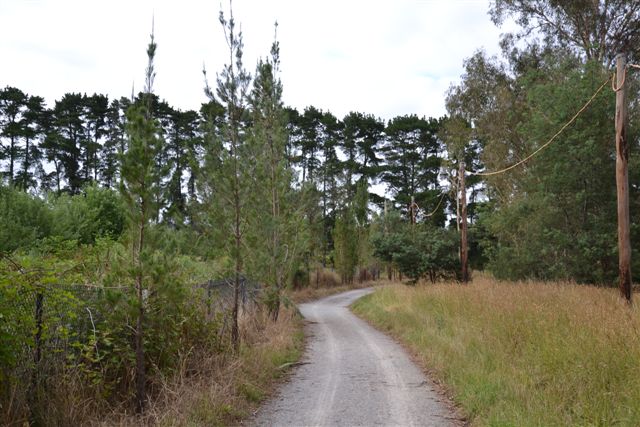 The Yarra Trail goes for 35 kilometres into the heart of the city. It starts near my home and that part goes through native bushland and grassy fields. In this podcast I would like to describe for you my walk along some of the Yarra Trail. I turn around and go back home after 4 kilometres, so my walk each morning is 8 kilometres long. Not bad, eh?
My walk starts at my house. For the first kilometre, I walk through the streets of my suburb until I come to the first field where a 200 metre gravel path leads me to the Yarra Trail. This gravel path goes past the local garden waste recycling centre, where garden waste is made into mulch for the gardens maintained by our local government council. It always smells strongly of cut grass and garden mulch. That smell always wakes my senses for the morning walk ahead. When I reach the Yarra Trail I turn left.
As I walk westwards, I see large grassy bushland to my right and the back fences of the last line of suburban houses on my left. I often think that the owners of these houses must enjoy living right next to such beautiful bushland. The grasslands on my right are the grazing grounds for my favourite native animals in this area – kangaroos. Although they are wild, they don't worry too much about people walking or riding by. However, if you want a closer look and walk towards them, they will at first look up and study you as you approach. They are deciding if you are dangerous, and how close they will let you come – not too close.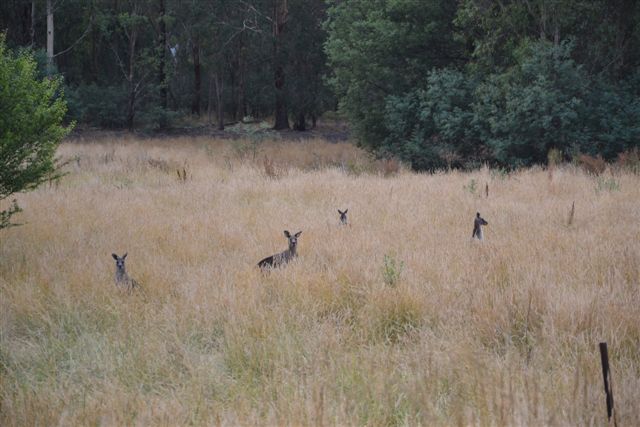 I love the kangaroos because of their beautiful shape and the way they move.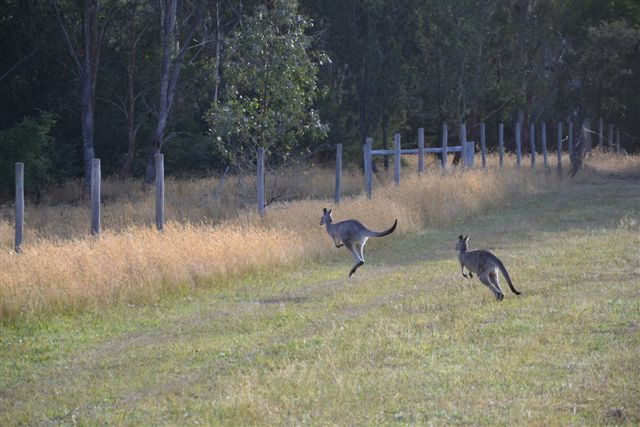 This mob of kangaroos has all ages, including young kangaroos (called 'Joeys') and some very large and old kangaroos. One time I was able to photograph one old kangaroo getting under a fence. He had to get down low but he did it.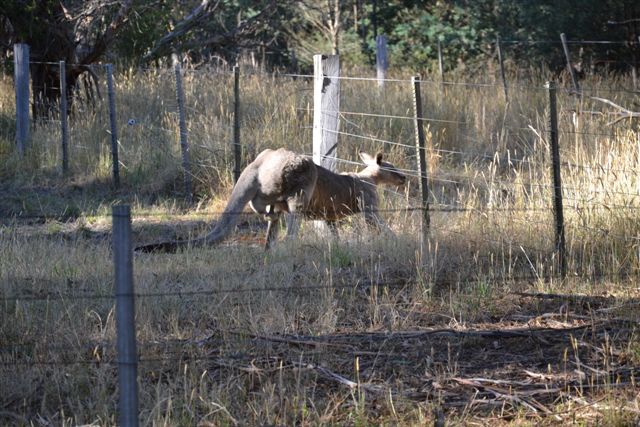 After I have walked about 3 kilometres, the path winds close to the river on my right, and to an orchard (Petty's Orchard) on my left. The orchard grows all kinds of fruit and has been in this area for over 150 years. It is now owned by a State Government department (Parks Victoria) and is being preserved for all Victorians. Protecting the fruit from the many birds in the area is a major task.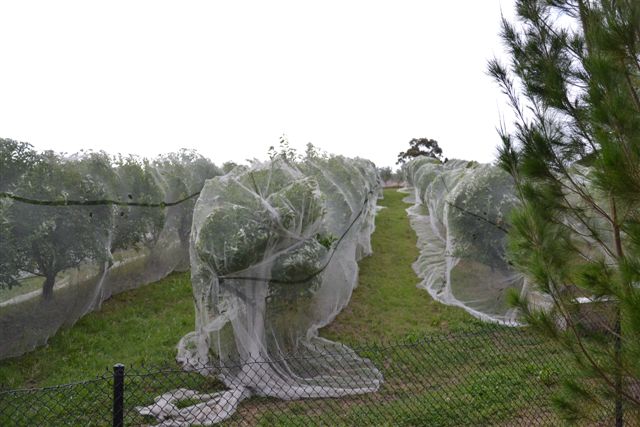 The Yarra Trail includes some sections where a wooden walkway has been built to allow walkers and bicycle riders an easy trip. This is taxpayers money being well spent, in my opinion.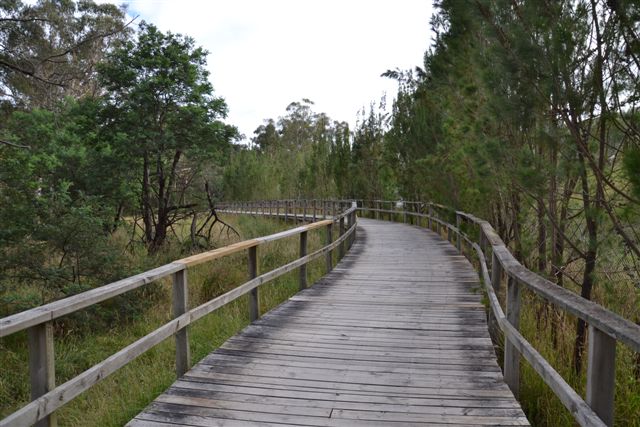 Along the way I often see wild rabbits. There are so many that I often wonder if they are becoming too numerous for the good of the bushland. They too are not afraid of people and will allow a walker to come as close as 5 to 10 metres before running off into the long grass.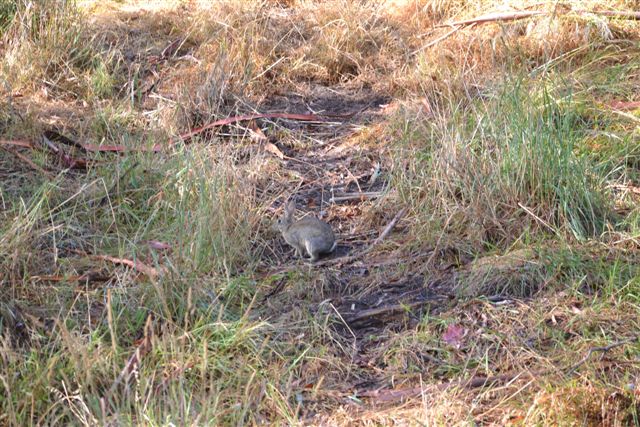 I also see native ducks feeding in pairs in the wetland areas I pass by. They seem quite tame although they will fly off if you get too close. They look so graceful when they fly.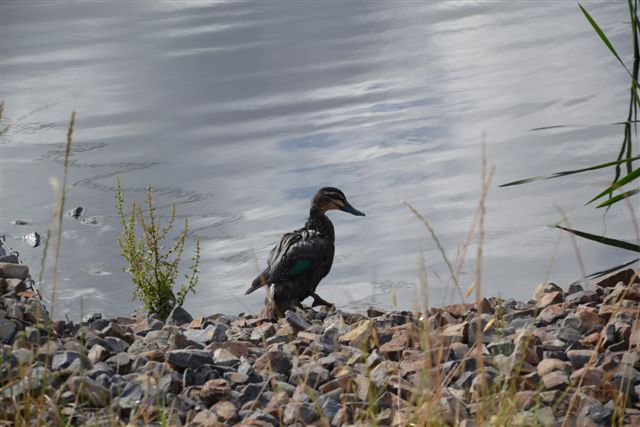 When I get home my legs are tired and I enjoy a short rest before eating my breakfast. What a great way to start the day.
If you have a question or a comment to make, please leave it by clicking the comments link at the top of this story. You can leave your comment in English or in any language and I will translate it. Goodbye until next time.
Rob
Podcast 5 Quiz - Did you understand the podcast?
You can take the quiz as many times as you like.
Vocabulary
approach = when you go closer to something
bushland = land where there is bush
dangerous = when something can hurt you
favourite = the thing you like best
fences = used to show the boundary of a field. Made of wood or wire
fields = flat areas of land, often with grass
gardens = a place where plants are grown
graceful = when something moves in a beautiful way
grasslands = fields where there is a lot of grass
gravel = very small rocks, used on pathways.
grazing = when animals eat grass
local government council = a level of government in Australia that looks after the local area
maintain = to look after something
major = when something is important
mob = used to describe a group of kangaroos
mulch = mulch is put on the garden to keep water in the soil
numerous = many
opinion = when you believe something and you tell it to others
orchard = a place where there are lots of fruit trees
pairs = two of something
photograph = taken with a camera
preserved = to be kept and looked after
protecting = to look after something and keep it from harm
reach = to get to a place
sections = parts of something
senses = our senses are sight, hearing, smell, touch and taste
State Government department = a level of government in Australian that looks after a state
suburban = used to describe things in a suburb
tame = when an animal is not afraid of humans and won't harm humans
taxpayers = people in Australian who pay taxes to the government
Victorians = people who live in the State of Victoria in Australia. Victoria is in the south
waste recycling centre = a place where waste can be taken so it can be used again
westwards = towards the west
wetland = an area of land which is wet all the time